Setting Up Your Franciscan Account
The instructions below will provide you with your Franciscan University username and step you through the creation of your password. Your username and password will be used to access many services including FUS Email, MyFranciscan and Blackboard (our eLearning system) through our single sign on solution, AccessFUS.
Note: You will need your student ID number to complete these instructions. You may find it in the enrollment kit you've be mailed upon acceptance or you may ask your admissions counselor for it.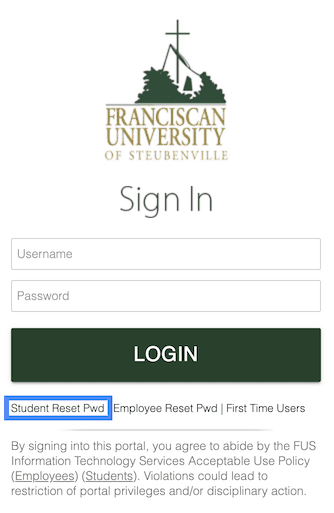 Step 2:
Follow the instructions on the page with the heading FOR STUDENTS USING THIS FORM FOR THE FIRST TIME. Be sure to make note of the username that is displayed once you submit the form (for example, if [email protected] is displayed, jsmith001 would be your username)
Step 3:
Navigate back to AccessFUS and try logging in using the username that was displayed in the previous step and your newly-created password.
If you have trouble logging in, please contact the ITS helpdesk at (740) 283-4357 or [email protected].
Step 4:
You will see various Franciscan systems displayed. To log out, select your name in the top right corner and a Logout button will be displayed.