What is Mobile Device Management?
Faculty and Staff Only: Franciscan University is implementing Mobile Device Management (MDM) software which safeguards student, employee, and confidential University information from falling into the wrong hands in the event of a mobile device being compromised. See the frequently asked questions below:
Q: What is Mobile Device Management?
A: Mobile device management (MDM) is software that allows IT administrators to control, secure and enforce policies on mobile devices such as smartphones, tablets and other endpoints. The intent of MDM is to optimize the functionality and security of mobile devices within the enterprise while simultaneously protecting the University network and in particular, any private or confidential information being accessed.
Q: Why is Franciscan University implementing MDM?
A: Student and employee information as well as confidential University information is now accessible from any location on any device with a valid username and password. With ease of accessibility, we open the door for unintended parties to also access this information. With the convenience of access comes great responsibility. The University and its employees are legally obligated to protect all private and confidential information of its faculty, staff and students. Failure do so may have significant legal and financial consequences.
Q: Do I need to install any new software on my phone for MDM?
A: Yes, the Microsoft Intune app will need to be installed on your mobile device in order to use any of the Office 365 applications, including Outlook for your email. Detailed instructions describing how to do this will be provided.
Q: What policies will be added to my phone?
A: Mobile Device Management will require that your device be password protected according to the parameters below IF you choose to install any of the O365 apps on your phone:
Password cannot be simple (eg. 1111 or 1234)
Password must be 4 characters in length
Device will be locked after a period of inactivity according to the settings on your device
Q: I use my personal phone to access my FUS email. Will my device be enrolled in MDM?
A: Any device that accesses Microsoft Office 365 through your FUS account will be enrolled in MDM. Office 365 includes your email, files saved in One Drive, Word, Excel, PowerPoint, etc. Any mobile device that is not enrolled in MDM will not be able to access University email or other information stored in any other Office 365 app from your mobile device.
Q: Can I access my email from a web browser on my mobile device?
A: It is possible to access your email from a web browser, however, once MDM is implemented, it will be a strict violation of University policy to do so.
Q: What information does the University have access to on my phone?
A: The following information will be accessible to Franciscan University's O365 system administrators:
User (i.e. [email protected])
Operating system type (i.e. iOS or Android)
Operating system version (i.e. iOS 12.4.1)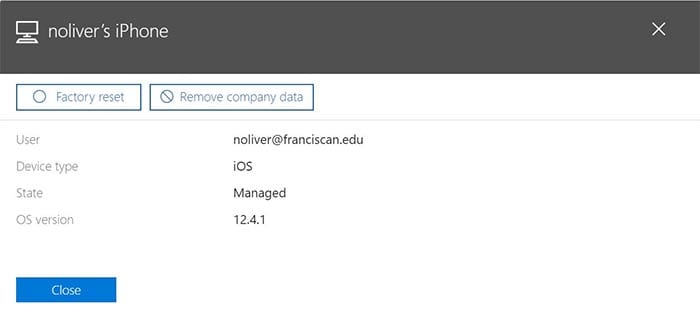 Q: Will Franciscan University be able to read my text messages?
A: Franciscan University will NEVER be able to see the following:
Calling and web browsing history
Email and text messages
Contacts
Personal Calendar
Passwords
Pictures
Personal Files
Q: What happens if my mobile device is lost or stolen?
A: If your device is lost or stolen, contact ITS to have access to your Office 365 apps and data removed from your phone.