Add Other Address Books from My Contacts
Having multiple address books can be helpful when trying to keep contacts organized, though by default, Outlook 2016 for PC does not display your new My Contact folder contacts when typing an e-mail. These instructions will help you fix that.
Step 1:
Open Outlook 2016; click on "People" small icon in bottom left column

Step 2:
The left Column, under My Contacts will list personal Address Books that are available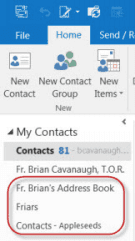 Step 3:
Right click on each Address Book separately to open Address Book Properties box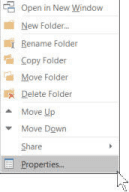 In Dialog Box window, click on "Outlook Address Book"
Put a check in box "Show this folder as an e-mail address book"
Double check to verify that address book is listed in the "Name of the address book" window.
Click Okay.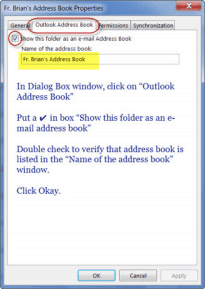 Step 4:
Click on the Address Book on the "Home" menu bar, far right

In the Address Book box, click on "Tools" on menu bar; then "Options"
In the "Adressing" box click on "Custom", next select the search order you want for each address book. When selected, use the up/down arrows to the right to change the search order.
Below is a box for "When opening the address book"
Click on the down triangle to the right to select which address book from the drop down list you want as the default address book
Click "Okay" > close the Address Book window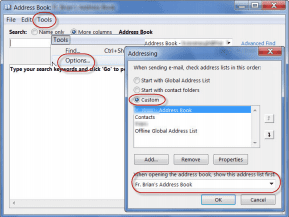 Step 5:
Click on "New Email", far left on the "Home" menu bar, our click Ctrl+N, to open a new email window
Click on "To" to open the default Address Book. Verify that the correct address book is displayed first
Click on the down triangle to the right to show additional address books available to use.